Pte Alexander Elias Serediak 5-B-5
Photo Left Alexander and Father
Note Translation by Google translate
Alex Serediak, forgotten liberator of Zwolle
Alex Serediak does not have a street name in Zwolle, like Leo Major. There is no park named after him, as for Welly Arsenault. Nevertheless, he contributed in no small measure to the liberation of the Overijssel capital in April 1945. He lost his life there.
Like Thomas Thomas , Serediak died in Zwolle, but his name hardly ever appears in the Zwol annals, while the story of 'liberator' Leo Major has grown to mythical proportions.
In 2019 Edwin van der Wolf spent a  lot of time in the search for family of Alex Serediak, who died on April 14, 1945 at Ittersum. Van der Wolf is one of the hard-working volunteers of the Information Cente Canadian Cemetery in Holten.
To find Serediak, he called all people with that surname in the Edmonton area of ​​Canada. The call round to more than 20 Canadians remained fruitless. Nobody was aware of the family member who died in Zwolle. Attempts to get in touch with family tree researchers through the Ancestry genealogy platform remained fruitless. The researchers who included Serediak in their family tree did not respond to repeated requests for information. Similar searches on Facebook were just as fruitless.
Van der Wolf then sought help from the regional department of the national Canadian broadcaster CBC. That led to results. CBC traced Patricia Farrus, Serediak's grandniece. Alex Serediak is her mother's uncle.
Farrus knew the story of her great-uncle and her family had already visited Alex's grave in Holten in 2016. Nevertheless, she was deeply moved by the effort Van der Wolf had made to trace her.
Farrus knew that her great-uncle was buried in the Holten Canadian Cemetery. That is not always the case. Family members often know something, but often the data about the final resting place has been erased from the collective memory – and sometimes the stories about the way someone has died are nothing more than a colored and imaginative interpretation of a faded memory.
In 2016, the Canadian National Archives (Library and Archives Canada) made available in 2016 the 'service files' of the soldiers who fell in the Second World War for genealogical research. The file contains selected documents from the files that often span many hundreds of pages.
In the past, targeted requests had to be made to Libray and Archives in Ottawa to view records of soldiers. It could take weeks to months for the files to become available. Now a relatively simple search via ancestry.ca is enough to view files of up to 100 pages with surprising details about the soldiers involved.
The Serediak genealogy package contains 64 pages. The file shows the image of a boy of Ukrainian descent. Brown eyes, brown hair, 1.76 meters long and weighing 73 kilos. His file contains various dates of birth. Serediak himself reports on his registration in 1944 and in his pay slip July 25, 1920 as his birthday.
Alex had left school at age 14 to work on the farm and later in the mines. Later he got a job as an electrician at the Boeing aircraft factory in Vancouver.
He had no special interests and during his inspection he did not notice any capacities that made him suitable for special army units. Suitable as an infantryman, officer EJ Kebblewhite found during the inspection on May 3, 1942.
He had reported in August 1941 when he had been drafted on the basis of national Canadian mobilization. He was released from service in February 1943, when he was hospitalized in Nanaimo, British Columbia, to be treated for his inflamed tonsils. "Unable to meet required military physical standard," was reported in his file on January 30, 1943.
But in May 1944, he was still found fit enough to be included in the ranks. He was shipped to the UK in December 1944 and arrived on the European mainland two months later, on February 23, 1945. He was assigned to the Canadian Scottish Regiment .
On April 14, the Canscots , as the regiment was called for brevity, moved from Den Nul in the direction of Zwolle. It seemed like a nice spring trip, judging by the confused diary description. "The trip was long and full of delightful scenery," said the regiment's journalist. The regiment gathered south of Zwolle, where Zuthemerweg ends at Wijheseweg. The Canscots passed through the city behind Regina's ( Regina Rifle Regiment ) without any delay. The enemy troops had already withdrawn to the west, across the IJssel. The Canscots took positions at Frankhuis, north of the city.
The last two reports in the confused diary on April 14 are: " Casualties Other Ranks: Killed 2 Wounded 2."
The two fallen soldiers are Alex Serediak and Thomas Thomas. It is not clear how Serediak died.
His remains were temporarily  buried in Raalte at the Protestant Cemetery. On February 5, 1946, he was given a final resting place at the Canadian military cemetery in Holten.
Patricia Farrus, Alex Serediak's great-niece, didn't know much about her great-uncle. She had heard her mother talk about Alex before, but they didn't really have any information. "My mom told me there were pictures of him, but that was about it. They never heard what happened. They only heard that he died in the war, " she told the CBC News last year  , after Edwin van der Wolf found her.
Thomas Thomas has received a plaque in April 2021 near the  Het Anker community center in Westenholte in Zwolle. A plaque was placed for Alex Serediak in April 2021 too near the monument for the fallen pilots on the Pilotenlaan in Zwolle-Zuid. Only 76 years after the liberation of Zwolle.
This is an edited version of an article by me in the Zwols Historisch Tijdschrift .
© 2020 Jan Braakman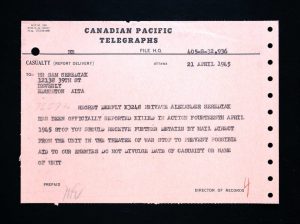 The telegram to Alex Serediak's father in which he read that his son had died. Source: Library and Archives Canada; Ottawa, Canada; Service Files of the Second World War – War Dead, 1939-1947; Series: RG 24; Volume: 27010