Pte Albert Pete Jennen 8-F-10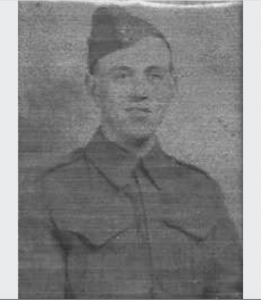 Albert was born on July 8 1917 in Hillhead South Dakota USA as the son of Theodore (Belgian) and Laurel Nettie Jennen (British), of Czar. Alberta. His parents were married on September 23 1915 in Britton South Dakota USA. His brothers were Leo Ray, Alton Leroy, Freeman Ives and Hollis Michael Jennen. His sisters were Mrs. Bertha Carrie Dambrofski and Doris Lena, Leona Delight, Olive Geraldine and Glade Hellene Jennen. And another sister Joyce Laurel Jennen died very young in 1933.
His profession was a farmer (horses) and he was member of the Lutheran Church.
He enlisted on July 14 1942 in Edmonton and he went overseas to the UK on June 24 1943 and he went thereafter to France on June 6 1944 for the D-day landing.
Albert was killed in action on Saturday July 8 at his 27th birthday in the A Coy near Cussy and he was temporarily buried in Cussy and he was reburied on February 6 1945 in Beny S/Mer.
And his medals were:1939-45 Star; France Germany Star; Defence Medal; War Medal; CVSM & Clasp.