Lt Trevor Ferguson Hoey 15-D-11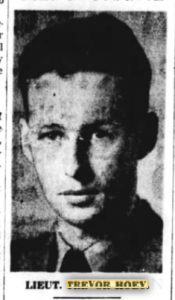 Trevor was born on June 17 1916 in Duncan British Columbia as the son of Ferguson and Mary Hoey. His parents were married on March 29 1911 in Aldershot England. He was married on April 20 1940 with Marjorie A. Hoey, of Victoria, British Columbia. Their daughter was Judith Mary Hoey. His brother Major Charles Ferguson Hoey of the Lincolnshire Regiment (British) was killed in action too on February 17 1944 in Burma and he was thereafter awarded with the Victoria Cross (VC). And he was buried at the Taukkyan War Cemetery in Burma grave 12-A-2. His sister was Mrs. Pricilla Connor.
He was a bond trader and member of the Church of England.
He enlisted on June 18 1940 in Victoria and he went overseas to the UK on July 30 1941 and he returned on December 17 1942 to Canada for his officer's training. And he disembarked again in the UK on July 14 1943 as a lieutenant and he went thereafter as reinforcement on July 14 1944 to France.
Trevor died of wounds on Friday July 21 age 28 in the D Coy near Caen and he was temporarily buried in Beny S/Mer and reburied on May 1 1945 there.
His medals were: 1939-45 Star; France Germany Star; Defence Medal; War Medal; CVSM & Clasp.