Lt Horace Thomas Mullins 10-H-6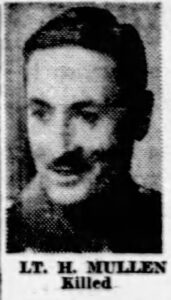 Horace was born on July 16 1913 in Sydney Nova Scotia, the son of Thomas and Alice Mullins of Vancouver. He was married with Doris Monica Mullins of Vancouver.
He was a steward and member of the Church of England.
He enlisted on September 13 1939 in Vancouver and he went on May 26 1944 overseas to the UK and he went thereafter on November 16 1944 to NW Europe.
Horace was killed in action on Sunday February 18 1945 age 31 in the C Coy at the Moyland Wood during the battle of the Rhineland. He was temporarily buried then in Bedburg Hau Germany before being reburied on September 19 1945 in Groesbeek.
His medals were: 1939-45 Star; France Germany Star; Defence Medal; War Medal; CVSM & Clasp. He was awarded on January 12 1944 too  the Canadian Efficiency Medal.