Lt Douglas Bute Stewart 20-C-16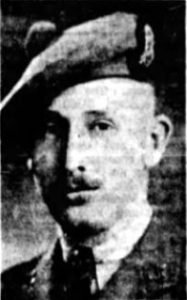 Douglas was born on February 27 1919 in Victoria British Columbia, the son of Robert M. and Lottie Louise Stewart. He was married with Maire Frances Elizabeth Stewart nee MacDowell of Crofton, British Columbia.
He was a prospector and member of the Presbyterian Church.
He enlisted on September 15 1939 in Victoria and he went on September 2 1941 overseas to the UK and he returned on September 30 1943 to Canada for the officer's training. He went on December 25 1944 as a lieutenant to the UK overseas again and he went thereafter on February 17 1945 to NW Europe.
Douglas was killed in action on Thursday March 29 1945 age 26 in the D Coy near Emmerich Germany during the battle of the Rhineland. And he was temporarily buried in Vrasselt Germany before being reburied on February 13 1946 then  in Groesbeek.
On his headstone: LET LIGHT PERPETUAL SHINE UPON HIM
His medals were: 1939-45 Star; France Germany Star; War Medal; CVSM & Clasp. He was awarded on June 9 1944 the British Empire Medal (Military Division).