L/Cpl Raymond John Diehl 11-A-8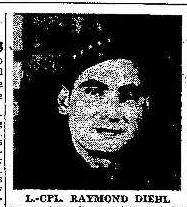 Raymond was born on July 2 1923 in Cypress River Manitoba as the son of George Albert (deceased in July 1944) and Maud Evelyn Diehl, of Cypress River. His brothers were Frederick Stewart, Arthur Irwin, Walter Menton, Wilfred John and Albert Dewarren Diehl.
He was a farm hand and member of the United Church. He enjoyed hockey, hunting and baseball. His hobby was mechanic and he liked reading any books, popular mechanics and he was an extensive reader but moderate taste. And he played pool billiards and cards.
He enlisted on January 30 1943 in Winnipeg and he went on June 10 1944 overseas to the UK and he went thereafter on July 15 to France.
Raymond was killed in action on Monday February 19 1945 age 21 in the A Coy at the Moyland Wood during the battle of the Rhineland. And he was temporarily buried in Bedburg Hau Germany and he was then on February 19 1945 reburied in Groesbeek.
At his headstone: GO FORTH AND TELL THE WONDROUS STORY, HE FOUGHT AND DIED THAT WE MIGHT LIVE
His medals were: 1939-45 Star; France Germany Star; War Medal; CVSM & Clasp.