L/Cpl Nels Gustav Rudolf Nelson 6-E-1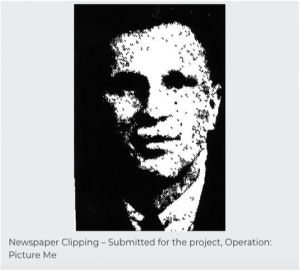 Nels was born on October 12 1919 in Loshult Sweden as the son of Charles Rudolf and Ruth Augustina Linnea Nelson. He was married on August 3 1940 in Calgary with Venla Nelson nee Crapo and they were already divorced in the meantime. And their son was Douglas Melvin Nelson and thereafter in custody of his mother. His brother was Roy Nelson.
He was a clerk and manager of branch store and he was member of the Mormon Church OD. He spoke English and Swedish. He played badminton, hockey and softball and liked reading.
He enlisted on June 21 1943 in Vancouver and he went overseas to the UK on March 14 1944 and he went thereafter on June 9 as reinforcement to France.
Nels was killed in action on Saturday July 8 age 24 in the D Coy near Cussy and he was temporarily buried there and he was reburied on February 7 1945 in Beny S/Mer.
At his headstone: ONLY UNTIL THE DAY BREAK AND SHADOWS FLEE AWAY: THEN WE WILL MEET AGAIN
And his medals were:1939-45 Star; France Germany Star; War Medal; CVSM & Clasp.