L/Cpl John Wesley MacQuarrie 7-B-16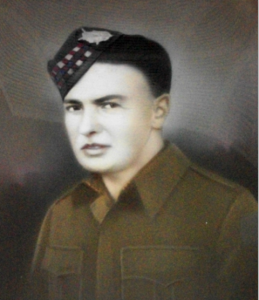 John was born on October 19 1919 in Cabri Saskatchewan as the son of Charles and Mary MacQuarrie, of Coleman, Alberta. His brother Allister MacQuarrie also was in the RCAF overseas and his sisters were Jean, Anna and Della MacQuarrie.
His profession was a labourer and he was member of the United Church.
He enlisted on October 16 1941 in Brandon Manitoba and he went overseas to the UK on March 29 1942 and he went thereafter on June 6 1944 to France for the D-Day landing.
John died of wounds due to an accident with a mine on Saturday July 1 age 24 in the D Coy near Rots Le Hamel and he was temporarily buried in Le Hamel and he was reburied on February 5 1945 in Beny S/Mer.
And his medals were:1939-45 Star; France Germany Star; Defence Medal; War Medal; CVSM & Clasp.
His name is at the monument in Rots, Normandy.