L/Cpl John Percy Thieme 6-B-11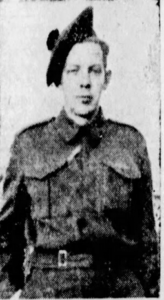 John was born on August 4 1923 in Holden Alberta, the son of John Frank and of Sarah Dorothy Thieme (nee Barlow) of Holden. He was married with Merle D. Thieme of Stettler Alberta and they had a son John Neil Thieme. His sisters were: Irene Dorothy, Mary Theresa, Irish Joan and Betty Ann Thieme.
He was a labourer and he was member of the Roman Catholic Church.
He enlisted on January 7 1942 in Edmonton and he went on September 2 1943 overseas to the UK  and thereafter on Tuesday June 6 1944 in the D Coy to France for the D-Day landing.
John was killed in action on the same day age 20 and he was temporarily buried in St Croix Graye S/Mer and on February 16 1945 reburied in Beny S/Mer.
On his headstone: HE DIED FOR FREEDOM MAY HE REST IN PEACE
His medals were: 1939-45 Star; France Germany Star; Defence Medal; War Medal; CVSM & Clasp.