L/Cpl Frederick Sydney Button 20-A-10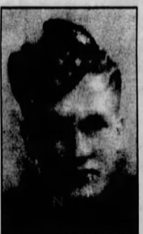 Frederick was born on February 11 1922 in Winnipeg as the son of Arthur F. Button (deceased), and of Sarah (Sadie) Charlotte Button (both English), of Oak Bay, British Columbia. His brother was Arthur Alfred Button and his sisters were Sadie Evelyn, Pearl Alice and Patricia Caroline Button.
He was a telegraph messenger and member of the Church of England.
He enlisted on September 5 1939 in Victoria British Columbia and he went on September 2 1941 overseas to the UK and he went thereafter to France on June 6 1944 for the D-Day landing.
Frederick was killed in action on Tuesday August 15 age 22 in the D Coy near Falaise and he was temporarily buried 2 km's East of Soulangy and reburied on May 17 1945 in Bretteville S/Laize.
At his headstone: FLOWERS ON YOUR GRAVE MAY WITHER AND DECAY BUT OUR LOVE FOR YOU SHALL NEVER FADE AWAY
His medals were: 1939-45 Star; France Germany Star; Defence Medal; War Medal; CVSM & Clasp.