L/Cpl Frank William Barton 14-H-13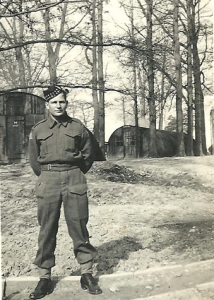 William was born on August 5, 1917 in Grassy Lake, Alberta as the son of Alfred Charles and Susan Barton of Kelowna, British Columbia. They were married in 1902 in London England. He was the husband of Isabelle Irene Barton of Vancouver and they were married on December 2 1939 in Prince George British Columbia. She remarried as Mrs. Welfare after the war. His brother was Alfred James Barton and his sisters were: Mrs. Dorothy J. Mary, Mrs. Rose M. Bouck, Mrs. Edith R. Swordy and Mrs. Sheriza M. McKingley.
His profession was a labourer and he was member of the Church of England.
He enlisted on October 18 1939 in Prince George, British Columbia and he went overseas to the UK on September 2 1943.
Frank was in the first wave during the landing on June 6 1944 on the beaches of Normandy. And he died of wounds thereafter on Wednesday August 16 age 27 in the SP Coy A . He died during the CanScots battle for Hill 68 near Soignolles alongside his friend Pte Frank Blair who is buried at the Bretteville S/Laize Canadian War Cemetery grave 16-E-11. And he was temporarily buried in St Germaine de la Blanche Herbe and reburied on January 24 1945 in Beny S/Mer.
His Medals were: 1939-45 Star; France Germany Star; Defence Medal; War Medal; CVSM & Clasp.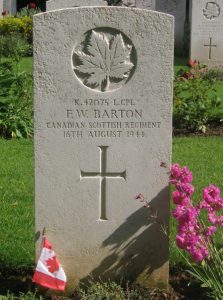 a