L/Cpl Edwin Fiddick 4-E-6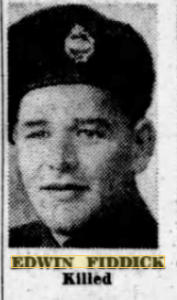 Edwin was born on November 2 1913 in Wellington British Columbia as the son of Richard (English) and Jane (American) Fiddick, of Nanaimo, British Columbia. He was married on August 23 1941 with Hazel Fiddick, of Nanaimo and their son was Dennis Edwin Fiddick. His brothers were Richard and John Fiddick and his sisters Alma and Alice Fiddick.
He was a logger and member of the United Church. He enlisted on November 13 1942 in Vancouver and he went on September 19 1943 overseas to the UK and he went thereafter on June 13 1944 as reinforcement to France.
Edwin was deadly wounded in action on Friday February 9 1945 age 31 in the B Coy near 'Little Tobruk' at the Waal flats during the battle of the Rhineland. And he was temporarily buried in Nijmegen and he was then on August 6 1945 reburied in Groesbeek.
At his headstone: WINDS OF HEAVEN BLOW SOFTLY HERE WHERE LIES SLEEPING ONE WE LOVED SO DEAR
His medals were: 1939-45 Star; France Germany Star; Defence Medal; War Medal; CVSM & Clasp.