L/Cpl Andrew James Finnie 6-D-6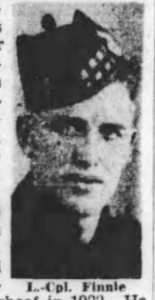 Andrew was born on February 6 1915 in Cana Saskatchewan as the son of Andrew (deceased 1932) and Jeannette Meikle Finnie. They were married in 1892 in Glasgow Scotland. He was the husband of Margaret Elizabeth Finnie, of Vanderhoof, British Columbia and they were married on January 25 1936.They had two children: Helen Deanna and Donald Gordon Finnie. Margaret remarried as Mrs. Campbell after the war.
His foster brother was Robert John Finnie and his sisters were: Mrs. Ellen Calder Steele; Mrs. Janet Findley Albery; Mrs. Charlotte Frame Dally and Mrs. Elizabeth Tigar.
His profession was a labourer and truck driver and he was member of the United Church.
He enlisted on July 11 1940 in Vanderhoof and he went overseas to the UK on June 3 1942.
Andrew was killed in action on Tuesday June 6 1944 age 29 in the first wave C Coy near Vaux during the landing on the beaches of Normandy. He was temporarily buried near St Croix Graye s/Mer and reburied on February 16 1945 in Beny S/Mer.
At his headstone: AS LONG AS LIFE AND MEMORY LAST WE WILL REMEMBER YOU
His medals were; 1939-45 Star; France Germany Star; Defence Medal; War Medal; CVSM & Clasp.