Cpl Thomas John Murray Bennetts 4-A-6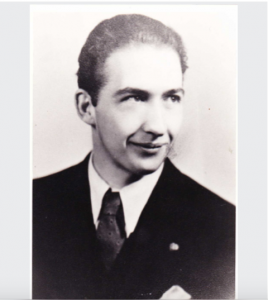 Thomas was born on August 17, 1918 in Hazlemere, England as the son of Thomas Richard (Australian) and Janet Rachel Hunter-Craig (Scottish) Bennetts. He was married on January 24 1942 in Salmon Arm with Patricia Kathryn Bennetts, of Salmon Arm. His brother was David J. Bennetts who also was in the army and his sisters were Mrs. Agnes Jacobi and Mrs. May Milliken.
He was a radio technician and member of the United Church. He liked sports like softball and skating and his hobby was corresponding with other amateur stations.
He enlisted on July 19 1940 in Kamloops British Columbia and he went on May 26 1944 overseas to the UK and he went thereafter on August 27 as reinforcement to France.
Thomas died of wounds on Saturday October 7 1944 age 26 in the B Coy near the Leopold Canal in Belgium and he was temporarily buried near Convent Notre Dame de L'Epine in Eeklo and on May 23 1945 reburied in Adegem. His grave was thereafter already adopted in November 1946 by a Belgian lady.
At his headstone: IF LOVE COULD SAVE THOU HADST NOT DIED
His medals were: The Medal 1939-45, France Germany Medal, War Medal; CVSM & Clasp.
He was awarded on July 12 1948 posthumously by the Belgian government with the Croix de Guerre 1940 avec Palme.