Cpl Ralph Winston Hadley 6-E-12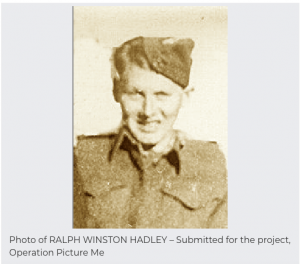 Ralph was born on May 27 1924 in Edmonton as the son of Ralph Winston Hadley (in the army too) and Daisy Ayre Hadley, of Edmonton. Note he gave his first date of birth as December 27 1921 (at 16.5 years) when he enlisted. His parents were married on August 23 1923 in Edmonton. His brothers were Norman Ernest, Malcolm Roy, Allyn Gerald and Lawrence Benjamin Hadley. His sisters were Margaret Louise and Alvera Jane Hadley.
He was a student and he was member of the Church of England.
He enlisted on September 16 1940 in Edmonton and he went overseas to the UK on October 7 1942 and he went thereafter on Tuesday June 6 1944 to France in the first assault wave on D-Day.
Ralph was killed in action on Saturday July 8 1944 age 20 in the C Coy near Cussy and he was temporarily buried there and he was reburied on February 7 1945 in Beny S/Mer.
At his headstone: AT REST
And his medals were:1939-45 Star; France Germany Star; Defence Medal; War Medal; CVSM & Clasp.