Cpl Percy Martin Colman 10 C-14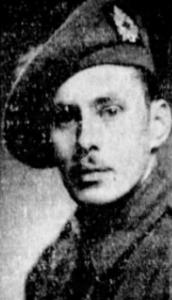 Percy was born on August 24, 1910 Prince Albert, Saskatchewan as the son of Adelaide Colman, of Vancouver. He was the husband of Anne Lillian nee Hart of Vancouver He was the brother of Bill, Freddie, Graham and Dolly Colman.
He was a handyman and member of the Church of England.
He enlisted on July 8 1940 in Vancouver and he went on September 1 1942 overseas to the UK and he went thereafter on July 3 1944 as reinforcement to France.
Percy was killed in action on Sunday February 18 1945 age 34 in the C Coy at the Moyland Wood during the battle of the Rhineland. And he was temporarily buried in Bedburg Hau Germany and he was then on September 13 1945 reburied in Groesbeek.
At his headstone: IN MEMORY'S GARDEN WE MEET EVERY DAY. MOTHER AND FAMILY
His medals were: 1939-45 Star; France Germany Star; Defence Medal; War Medal; CVSM & Clasp.