Cpl Leo James Netzel 8-G-8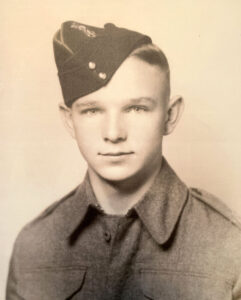 Leo was born on September 6 1921 in Sandy Lake Manitoba, the son of Theodore and Stella Netzel, of Vernon, British Columbia. They were married on February 7 1910 in Eden Manitoba. His brothers were: Stanley and John Netzel and his sisters: Annie Stein, Helen Smith, Stella Amigol, Josephine Boyd and Pearl Thoeleifson. His brother Pte Frank Netzel was killed in action earlier on Monday July 5 1943 age 29 as a member of the Field Ambulance Unit  when he was on a boat which sunk underway before the landing on Sicily. He was missed afterwards and therefore he is at the Casino Memorial in Italy at panel 15.
He was a labourer and member of the Roman Catholic Church.
He enlisted on February 19 1941 in Edmonton and went overseas to the UK on June 24 1942 and he went thereafter on June 6 1944 to France for the D-Day landing.
Leo was killed in action on Sunday, October 8 age 23 in the A Coy near the Leopold Canal in Belgium and he was temporarily buried in Maldegem and reburied on July 17 1945 in Adegem.
At his headstone: Father, In Thy gracious keeping Leave we now Our loved one sleeping.
Mount Netzel near Valemount British Columbia was posthumously named after Leo and Frank Netzel.
His medals were: 1939-45 Star; France Germany Star; Defence Medal; War Medal; CVSM & Clasp.