Cpl Joseph Hudson Pallister 8-G-9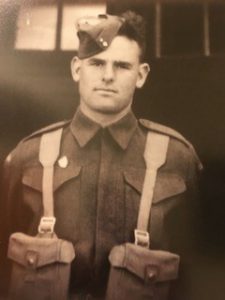 Joseph was born on September 25 1923 in Calgary, the son of Guy and Evelyn M. Pallister, of Turner Valley Alberta. His brothers were: Thomas, Fred, John, Bernard, Henry, Stanley, Albert, Reginald and Allan Pallister. And his sisters were Beatrice, Daisy and Norah Pallister. Two brothers were in the army overseas too and came home again afterwards.
His profession was a pipe fitter in the oil industry and he was a member of the Church of England. His hobbies were  baseball and light reading.
He enlisted on January 11 1943 in Calgary and he disembarked on August 27 1943 the UK  and he was taken on strength on October 10 1943 to the Canadian Scottish Regiment . He also served on June 6 1944 in the first wave of the landing on D-Day.
Joseph was killed in action on Friday October 6 1944 age 21 in the C Coy during the battle of the Leopold Canal in Belgium and he was temporarily buried in Maldegem before being reburied on July 17 1945  in Adegem.
On his headstone: Just another good soldier and son. Mom and Dad
His medals were: The 1939-45 Star; The France Germany Star; The Defence Medal; The War Medal; The CVSM & Clasp.
His grave was adopted on  May 11 2019 by my son Breyten van der Wolf.