Cpl Howard Waddington Ford 6-C-16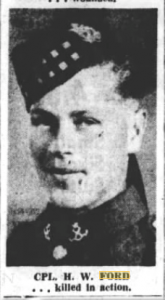 Howard was born on January 7 1921 in North Portal Saskatchewan as the son of Walter Edward and Elsie A. Ford (English), of Vancouver. His parents were married on January 15 1920 in North Portal. His sisters were: Melba Avis, Elaine Joyce and Donelda Jean Ford. And an uncle was Edward Fountain.
He was a carpenter apprentice and he was a member of the United Church.
He enlisted on December 16 1939 in Victoria British Columbia and he went overseas to the UK on September 2 1941 and thereafter to France for the D-Day landing on June 6 1944.
Kenneth was killed in action on Friday June 9 age 23 in the A Coy near Putot en Bessin and he was temporarily buried there and on January 18 1945 reburied in Bretteville S/Laize.
At his headstone: HE IS NOT DEAD, HE IS JUST AWAY. ALWAYS REMEMBERED
His medals were: 1939-45 Star; France Germany Star; Defence Medal; War Medal; CVSM & Clasp.
His name is at the monument in Putot en Bessin.