Cpl George Kawiuk 8-A-11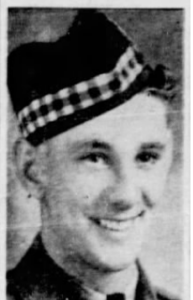 George was born on May 2 1923 in Red Deer Alberta, the son of Larry Joseph and Lena Kawiuk, of Calgary. His parents were married on August 7 1921 in Shandro Alberta and divorced later. His brother was John and sister Victoria Kawiuk.
He was a store man and member of the Roman Catholic Church. His hobbies were baseball, hockey, Canadian rugby and basketball. He owned an Indian motorcycle which he drove and repaired it regularly.
He enlisted on November 4 1942 in Calgary and he went overseas to the UK on April 4 1943 and he went thereafter on June 6 1944 to France for the D-Day landing.
George was killed in action on Friday October 27 age 21 in the A Coy near the Breskens Pocket and the Scheldt and he was temporarily buried then in Hoofdplaat, Holland and on June 12 1945 reburied in Adegem.
On his headstone: IN LOVING MEMORY OF OUR DEAR SON GONE FROM OUR HOME BUT ALWAYS IN OUR THOUGHTS
His medals were:  1939-45 Star ; France Germany Star; Defence Medal; War Medal; CVSM & Clasp and the MM (The Military Medal in September 1944 for a tank fighting with a Piat near Cussy France).