Cpl Albert Frederick Courtney 9-A-14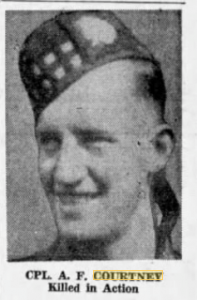 Albert was born on May 9 1921 in Nanaimo British Columbia as the son of Archibald Warren and Gertrude May Courtney, of Vancouver. His parents were married on November 25 1920 in Nanaimo. His brothers were George Warren and Archibald Stanley Courtney, his sister was Gertrude May Courtney and his uncle was Fred Hunter.
His profession was a miner and he was member of the Salvation Army.
He enlisted on June 24 1940 in Nanaimo and he went overseas to the UK on September 2 1941 and he went thereafter on Tuesday June 6 1944 to France for the landing on D-Day.
Albert was killed in action on Thursday June 8 age 23 in the A Coy near Putot en Bessin and he was temporarily buried in Secqueville en Besser and thereafter reburied on March 8 1945 in Beny S/Mer.
At his headstone: NOT JUST TO-DAY BUT EVERY DAY IN SILENCE WE REMEMBER. EVER REMEMBERED BY FAMILY
And his medals were:1939-45 Star; France Germany Star; Defence Medal; War Medal; CVSM & Clasp.
His name is at the monument in Putot en Bessin.